Introduction
Edit
This article describes a method for easily forging field frame rings and washer rims from round rod using a horizontal field frame ring forging template. Here we use an oval template suitable for forging field frame rings, but the basic idea can be applied for round washer rims as well.
The process step by step
Edit
Start by forging the round stock to roughly the shape of the template:
Overlap the ends of the rings:
Cut at the edge of the overlap: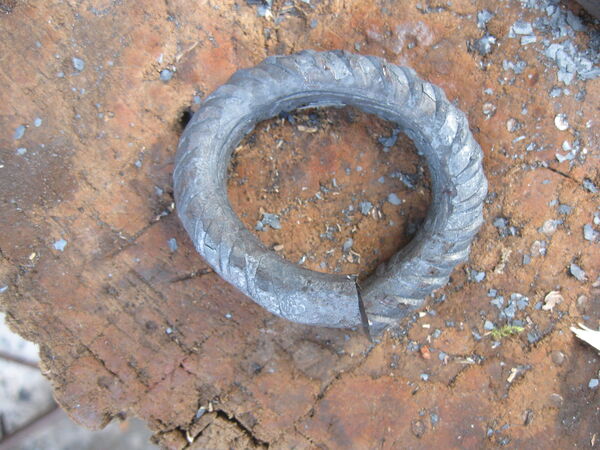 Heat and beat the ring with a heavy (~2kg) hammer until it is of correct thickness:
Forge the ring around the template from opposing sides using two smaller hammers (~1kg), so that the ends overlap again:
Finally, cut at the overlap, forge the ring perfectly flat and verify curvature using the template. Then grind the upper side perfectly flat. Please disregard the fact that in the pictures below the ring is round, not oval: the process is still the same:
New weld the ends together and grind away the extra steel from the welding seam.
Finally polish the ring using sandpaper of always increasing fineness, up to 800 grit. Please disregard the fact here the polished ring is already attached to the field-frame bars: